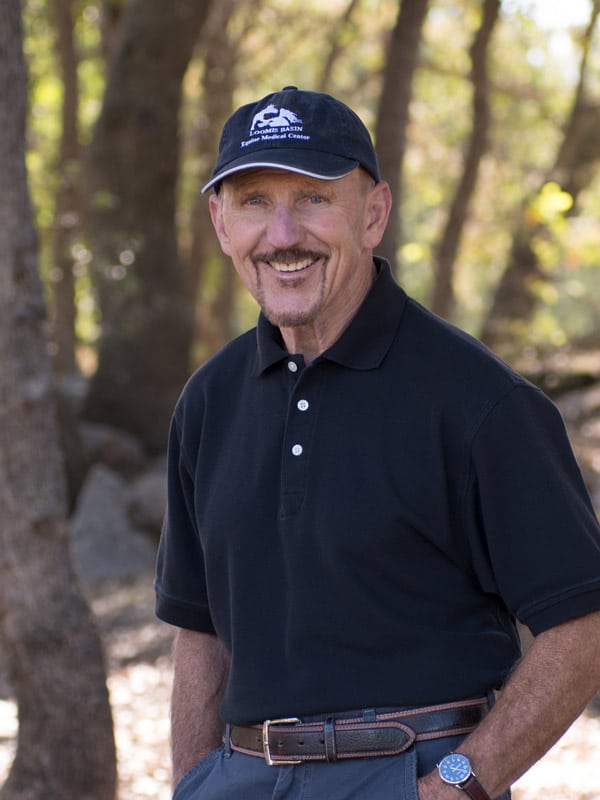 by Bob Morgan, DVM
Share:
ARTICLE: Anatomy of a Rescue
There are many good souls among the horse owners of our practice. The examples of people who are willing to step up and assume the care of horses who have been abandoned by people who are either unable or unwilling to continue as caretakers are plentiful. Most of these rescues happen quietly and go unrecognized, but it may serve as salute to all those silent rescuers to chronicle the case of Pacheco, a rescue in which LBEMC had a small, but happy involvement.
Pacheco, an Arabian stallion of about 18 years of age, was abandoned at San Luis Reservoir State Recreation Area on State highway 152 in Merced County. It's more than a 2 hours drive from Placer County. The horse had been running free in the park for at least 2 weeks and was eventually captured by Maintenance Chief Mike Stanley and Acting Sector Manager Liz Steller. They took the horse to the adjacent Pacheco State Park where there are corrals and shelters — which is how he came to be named Pacheco.
Liz, Lee and Pacheco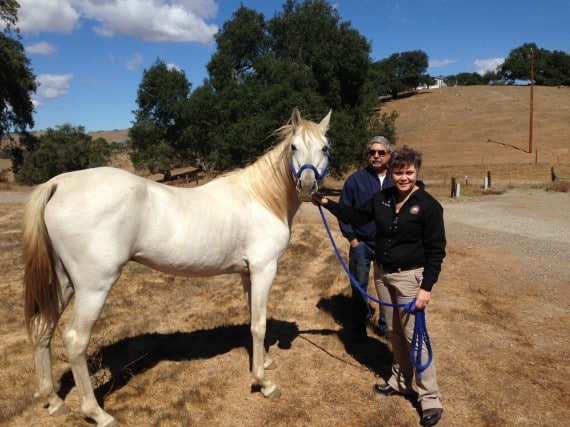 Pacheco was allowed to be temporarily housed at Pacheco State Park, being fed and cared for by former park ranger and superintendent Lee Sencenbaugh for over two months while parks staff tried to place Pacheco with a rescue outfit. Lee had also contacted county animal control for help with housing and placement. When the county officials had no room for another abandoned horse, Liz reached out to her friend Laurie Valentine for ideas. Laurie, a client of LBEMC, contacted Dr. Bob Morgan to see if there were any Placer County rescues that could step in. By incredible good fortune, Dr. Morgan was seeing a horse for Melissa Reali who mentioned she was starting a horse rescue based in Lincoln. Melissa talked to Laurie and the match was made. Melissa, along with Lisa Smith, drove to Pacheco State Park, spent untold hours loading Pacheco,and brought him to Lincoln.
Pacheco turned out to be a star. He quickly adapted to his new caretakers and was gelding-like in his approach to people. But he needed some additional help before he could be adopted to a suitable permanent home. His stallion status had to end:
Dr. Morgan performing the castration.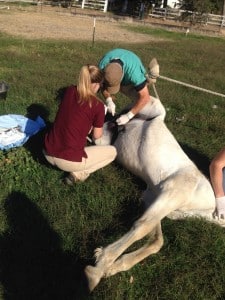 His teeth were in need of serious adjustments (Laurie Valentine donated 250# of Stable Mix to help until his dental work was completed), and his vaccination and deworming status had to be dealt with. This was accomplished by Melissa and Freedom Horse Rescue.
Very soon after the completion of his "makeover," Pacheco was able to go home with his new "Mom," Starr Nadin Craft whose smile stands in for the collective smiles of all who participated in this adventure.
Pacheco and his new "mom"